I have a couple of routine things to start this post off with.
First of all, a great big
thanks
to
everyone
who gave me their opinions on future new reading material and album buys. My goal is to read every single book mentioned as they all sound fantastic in different ways. And don't worry
April
, Harry Potter has had my heart since the sixth grade, and I do not intend on ever abandoning him ;)
As for the music, there were several artists mentioned that I knew of and loved already, but there were also several that I hadn't known of prior to hearing them from you guys so I cannot wait to explore them further!
And if you didn't get a chance to voice your opinion
here
then by all means please still do so. I have yet to spend my iTunes card, and I am planning to do so later tonight.
Secondly, did you notice anything different about my space? New banner, new buttons, new photo, new text! Yay!
It would be a dire understatement to say that I've had a
little bit
of time on my hands so I finally did something that I feel was actually productive.
Let me know what you think. Yay, nay?
_____________
And finally to the good stuff.


Tomorrow begins the journey!
I am so excited to be driving down to Louisiana with my ENTIRE family minus potentially my brother! We're going to be sqished like sardines, but that is alright because the occasion is worth it. My cousin is getting married, and in consequence, I will be able to see a large portion of my extended relatives outside of our annual in-between-Christmas-and-New-Year-reunion that is held in Texas at the end of each December.
This particular wedding is that of my older cousin, Justin, and lots and lots of family members are due to attend. My little sister is going to be the flower girl (a dream come true for that child), and my dad is a groomsman (I think?!).
The best part of the entire shindig will be reuniting with my cousins, Leah and Ashley. What is important to understand first and foremost is that there are 20+ grandchildren total in our family, and Leah, Ashley, and I were all lucky enough to be born within the same year.
Growing up we were a hoot and the cutest little girls ever to be around
. Of course, this information is coming from a bias source (I suppose).
Some of my older cousins might use different adjectives to describe the three of us together: annoying, loud, mischievous... to name a few.
But, whatever. We're awesome, and I cannot WAIT to see them!
The last time the three of us were at a wedding together was quite some time ago. Take a look at these old photos that I just so happened to dig up. These were taken in New Orleans at, alas, another cousin's wedding.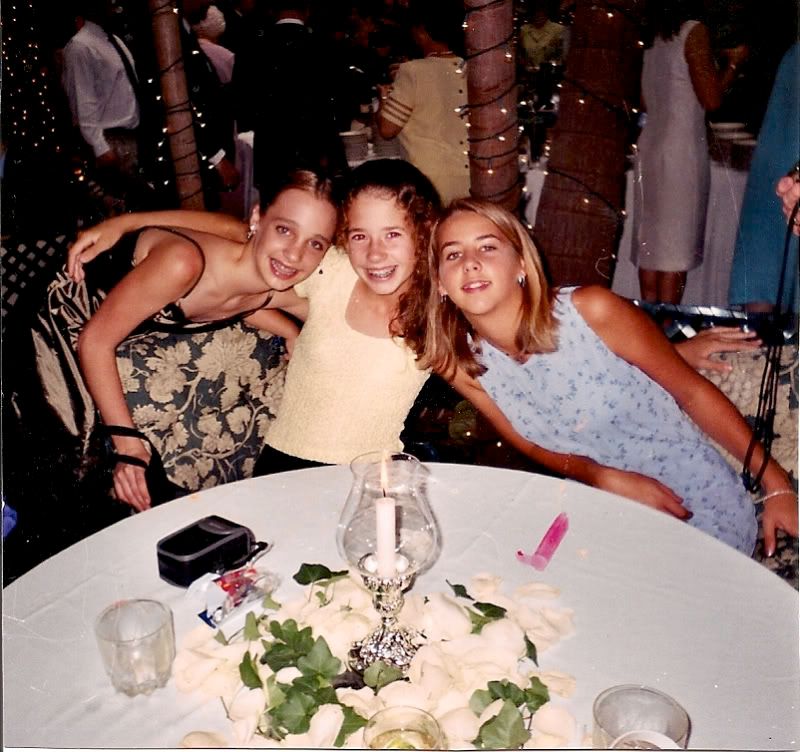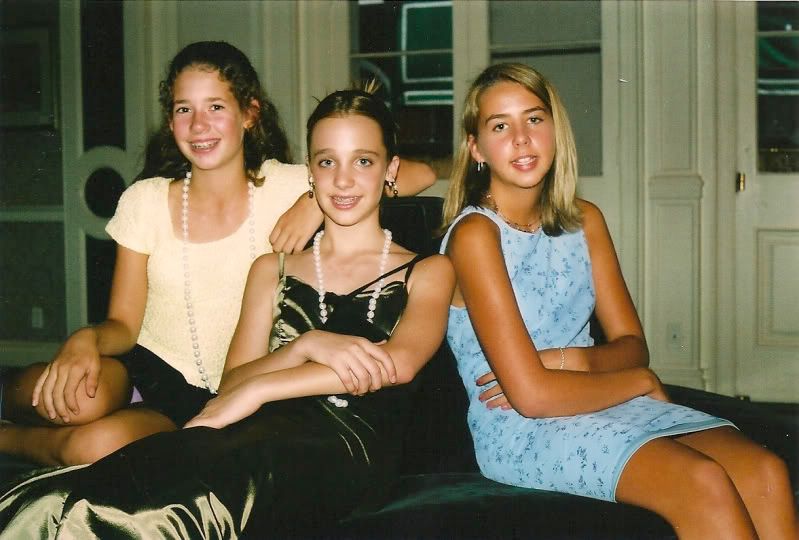 (I'm the one rocking the yellow shirt with frizzy hair and braces.)
Gotta love those awkward years! I'm guessing this was either the summer before seventh grade or the summer before eighth.
Anyhow, I do not expect to be able to blog while there so this could potentially be farewell until Sunday evening.
Be looking forward to a "Through the Lens" post recapturing the trip in all of its glory!
Love to you all!