But it is about that time of year again, the time of year when I get bored with my hair- cut, style, color, and everything that is in between.
This is stupid and annoying and lame and more things.
But with that said, while Ashlee Simpson and I do not have many things in common, we do seem to share a similar skin tone. I'd like your opinions on which hair color (ix-nay on the yle-stay) looks best in contrast to her skin.
I know, right? Completely vain, but if you all only knew how much my frizzy and out-of-control mane seriously (or not so seriously) impairs my life on a daily basis...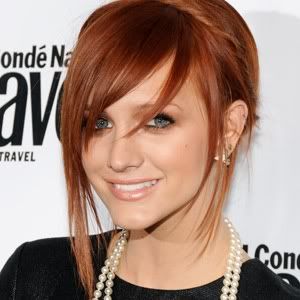 Also, would any ladies be willing to share the name of a miracle product that truly eliminates frizz; as in you have experienced the product first hand and are amazed by its ultra frizz-fighting results? Cremes, foams, sprays, mousses...anything, really.
Thank you so much for the help!
And don't worry, I will not put forth any judgement upon you when you un-follow my blog as a result of this post.
It is just nonsense, after all.