I admittedly took off on a spontaneous trip to Knoxville this weekend without any warning, and for that I am sorry. The good news though, is that I had a wonderful time! It was a great mini vacation, one that was much needed.
Nothing too exciting ensued upon our journey- simply time well spent with friends.
However, I leave everyone in the blog-o-sphere with
one photo
as a summary of our weekend.
This was taken before the U.S.A vs. Ghana World Cup game on Saturday.
Always one for a laugh and unable to come across face paint at this point in time (thank goodness), my boyfriend found the perfect ensemble for the event.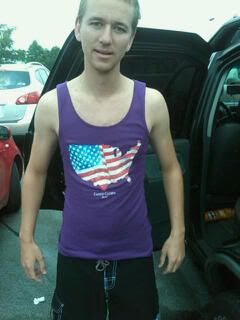 And yes, I had to sit next to him the entire time.
Feel sorry for me.