I think that I may be extremely behind the times in learning this, and if so I'm sorry. Our local mall, however, has implemented a new store into its facility called "
Francesca's Collections
." It's absolutely fabulous and may as well be called "Emmy's Ideal Closet" instead.
My friend and I went to check it out the other day, and I bought two tops and a dress.
The best way I could describe it is boutique clothing without the outrageous boutique prices. That is not to say that the clothing is cheap by any means, but the prices are not too steep either. After one trip I think that it is safe to say that I've already established it as my new go-to place in the mall.

What sealed the deal though, was the fact that the accessories table had a book of names placed atop of it, (one of those fortune telling books based on first names), and not a thick one mind you.
Guess which name it actually included!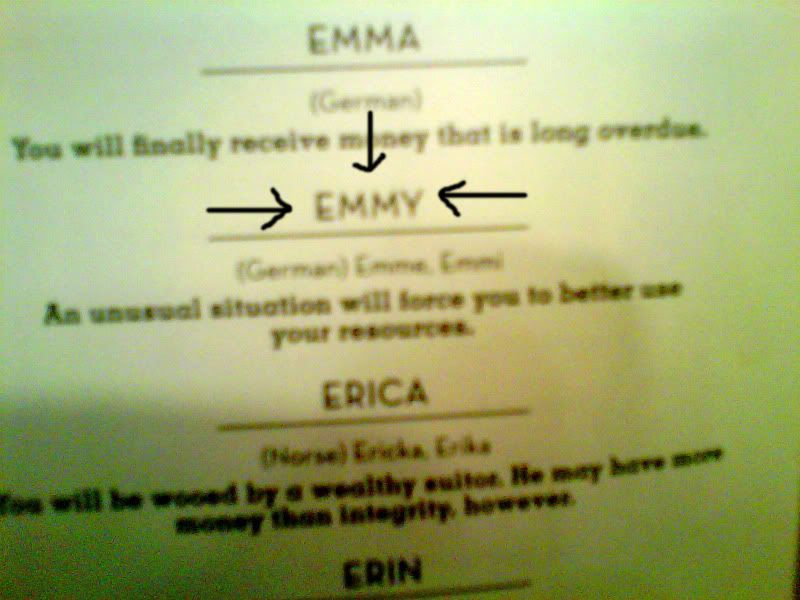 "Emmy- An unusual situation will force you to better use your resources"


I know this is such a small and minute incident, but you guys,
this never happens to me
!
I am usually forced to choose from "Emma" or "Emily" and tweak its significance or fortune to my liking.
Needless to say, the occurrence only heightened my overall excitement for my new find!