I did it!
I survived
, and oh, what an experience!
My boyfriend and I have attended a number of music fests in the past including, but not limited to, Chicago's Lollapalooza and the traveling Warped Tour, but this was the most intense experience thus far.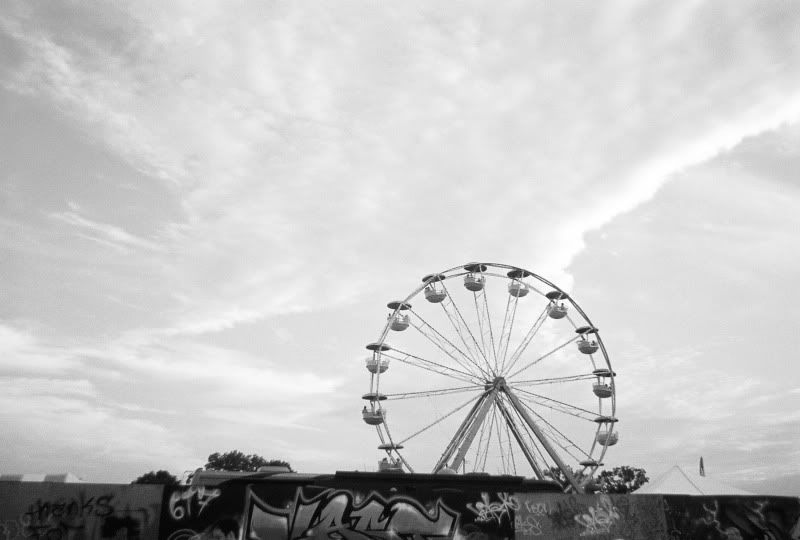 The fest in itself is a commitment. The heat at times was nearly unbearable, our campsite was a 30 minute walk from the park, and the incoming traffic was hellacious.
Despite all of the setbacks, however, it was the event of a lifetime, and I would definitely like to return next year for its tenth anniversary (to which I will be expecting a sensational lineup).
Here is a brief look into our adventure via disposable film cameras and writings. I have videos that I would like to share as well, but I need to wait until my internet has more of a boost. Check back with me for those!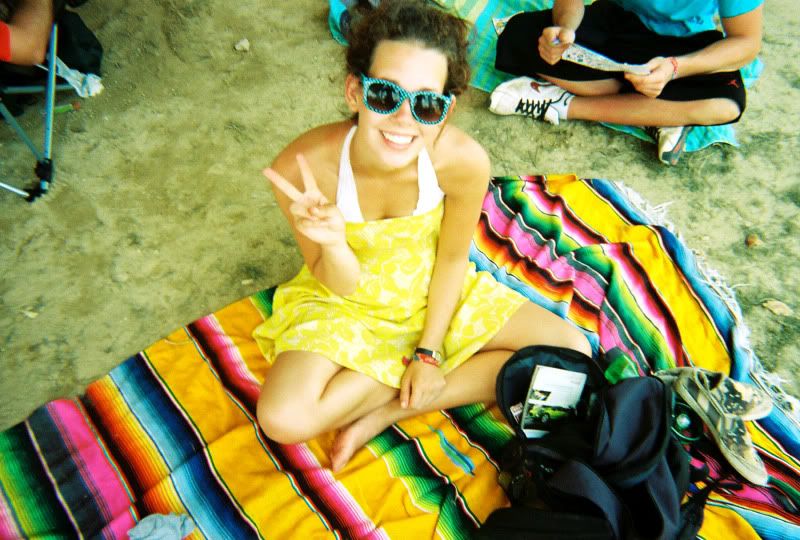 Traffic,
Traffic,
Traffic,
Traffic
.
We arrived in Manchester at 4 p.m. and didn't park at our campsite until 11:30 p.m.
One cannot tell from the following picture due to Eliot's thumb, but we were forced to put our tent together in the dark, and it was a frustrating process followed by the most pathetic housing display I have seen. (I also learned after the fact that Eliot had a hard time grasping the concept of taking a photo as his thumb is a recurring figure in 20% of our film...you'll see.)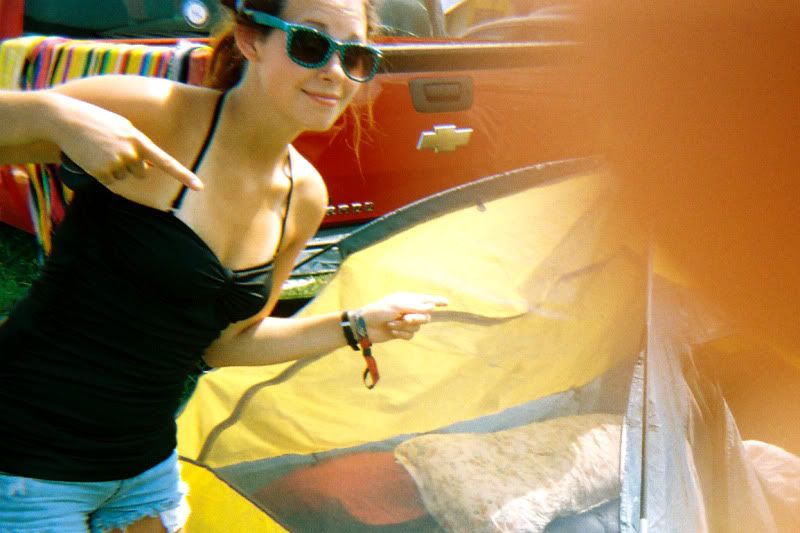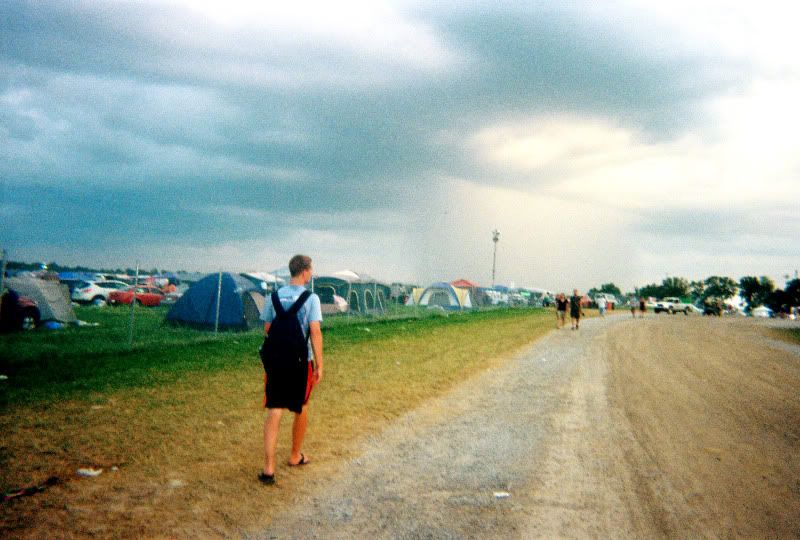 The traffic was quite unfortunate and caused us to miss all of the performances that were on Thursday, but we made up for that with our nonstop concert marathon on Friday.
Friday, we awoke no later than 7:30 a.m. due to excitement and intolerable heat. Eliot and I decided to explore the grounds. We did so, and after a slow start, bricking on Conan O'Brien's set, and getting lost on the way back to our site, we finally got down to business. Time for some music!
Edward Sharpe and the Magnetic Zeros
were the first band we saw. I knew these guys for a while, and I really like a couple of songs by them like "Home" and "Simple Love," but I read a not-so-great review about their album so I have been hesitant to buy it. However, their live performance was top notch, and I really enjoyed it. For 30 minutes I found myself not solely concentrated on the heat, which is certainly a feat.
She & Him
was next on our list. I do not think I can express in writing how excited I was to see them. Zooey Deschanel appeared on stage and if
possible
, she looked even cuter and sounded even better in person- tons of energy, and she looked stinking perfect!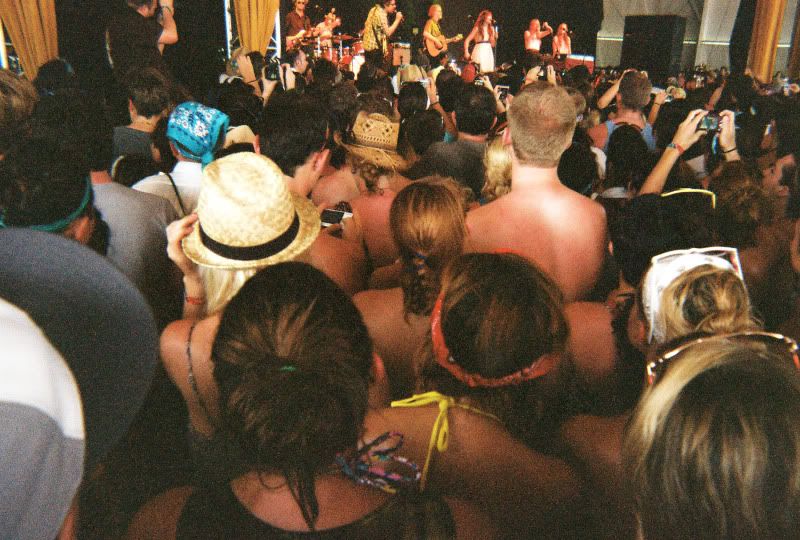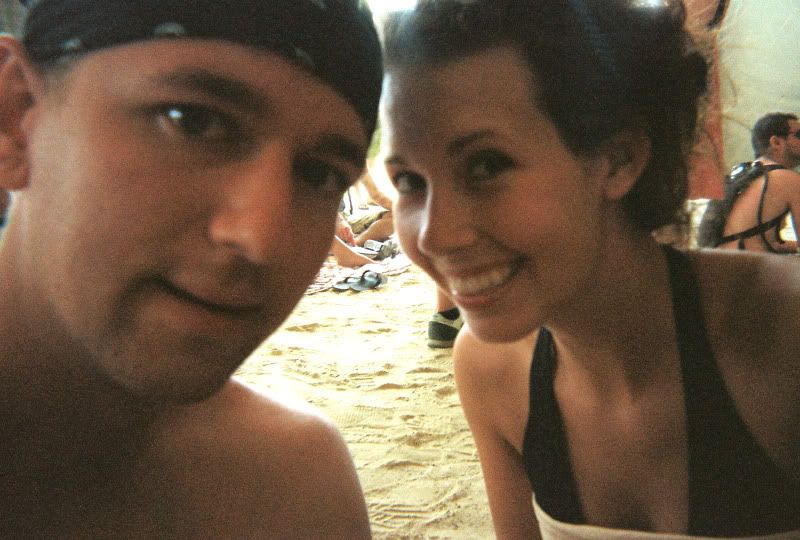 Their performance certainly set the tone for the rest of the trip.
After She & Him finished their set, Eliot and I walked over to the Which Stage to see the end of
The National
's performance. My favorite part? This guy:
(This is the part where I would insert a really funny video of a guy who, in simplest terms, wasn't exactly in the perfect state of mind- just one of the many obscure things to be seen. I will post the video though as soon as possible.)
Don't worry, the man was safely removed from the vicinity.


Then, after briefly dropping in on the beginning of
Steve Martin
and
The Steep Canyon Rangers
, we decided it would be a good time to head back to the tent for a quick power nap as we had a big night ahead of us. We woke during Kings of Leon's set, which we could clearly hear from our tent. Missing their show wasn't too much of a loss for us since, collectively, we had seen them three times already. On the way back to the park, however, we heard the boys covering "
Where is My Mind?
" by The Pixies.
What a treat to the ears!
Upon our return, we took part in The Flaming Lips as they performed their own set as well as their version of "Dark Side of the Moon." Then, 2:30 a.m. finally rolled around and Eliot and I got our dance on for
LCD Soundsystem
- one of his favorites. He was a great performer, but we were both so tired at that point that we physically couldn't make it until the end.
Saturday was my favorite day! Every show we saw was flawless, high energy, and fun. Plus, it was cloudy for the majority of the day- a nice change in pace.
We started off the day with the England vs. U.S. game. The park had a tent devoted specifically to the World Cup- smart.
Then, perfect music ensued- The Avett Brothers,
The Dead Weather
, Weezer, Stevie Wonder, and Jay-Z- in that order. Never once did I feel in the least bit disappointed with their shows.
During The Avett Brothers, Eliot and I laid out our blanket toward the back, laid down, and enjoyed the cloudy skies and just being in each others company. It was so relaxing.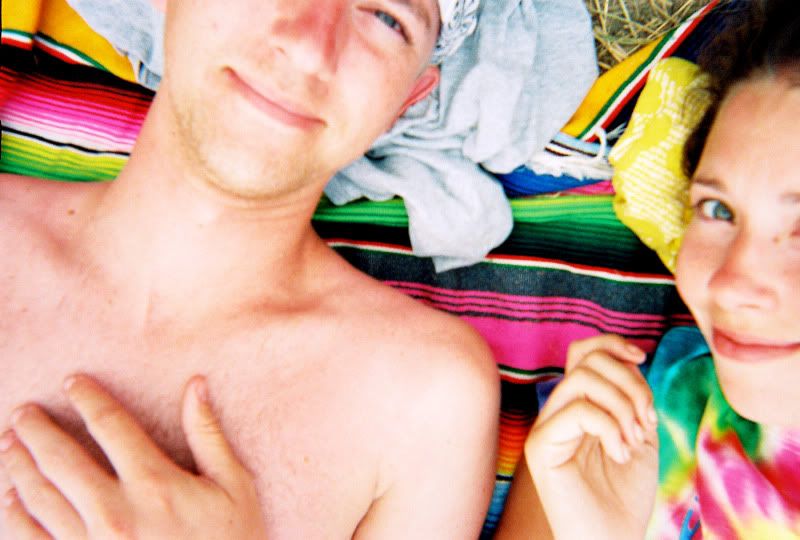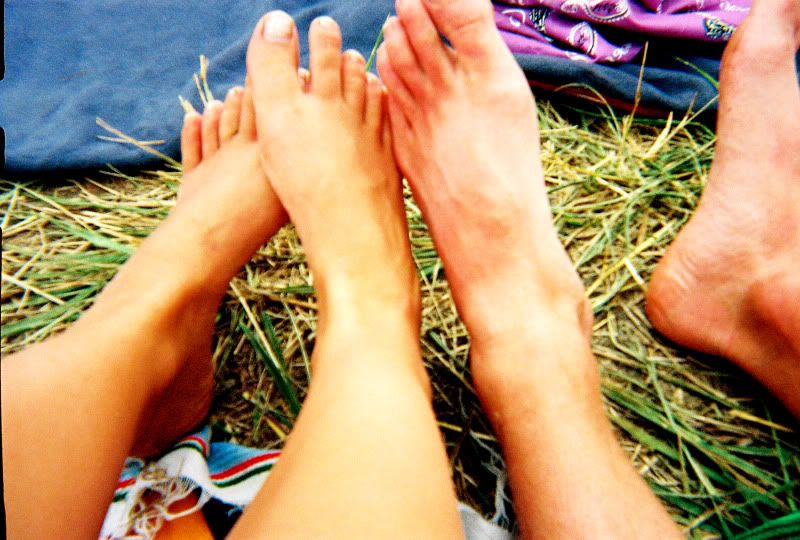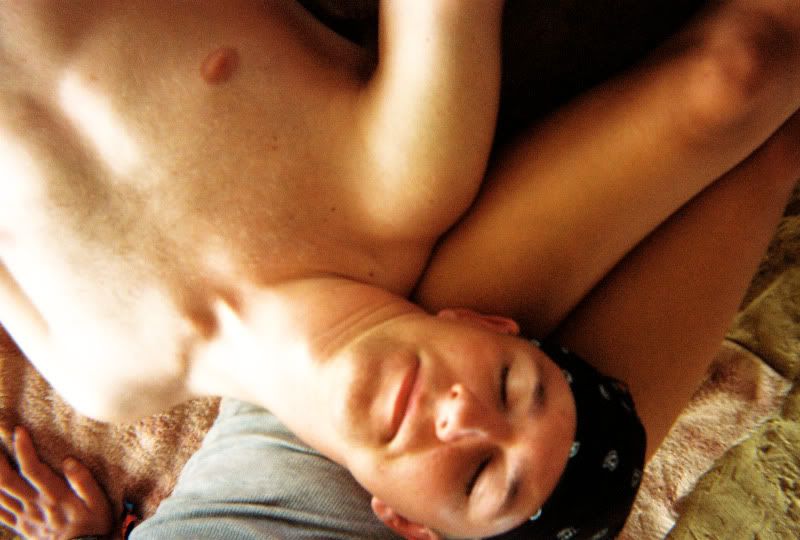 (My favorite photo from the trip)
After that, supergroup The Dead Weather blew our minds with their insanity. I am thoroughly convinced that Jack White is a robot. Nobody can naturally be that musically talented. It's unreal, and lets face it,
it's just not fair
. And as promised, I do remember that The Dead Weather was the band that brought the rain to us. Thank you Jack White for the refreshing gift!
We were also very thankful that Weezer decided to play a decent amount of older material during their set. They also snuck in a cover or two- "Kids" by MGMT. Who would have guessed?
Finally, it was time for the uncomparable duo- Stevie and Jay-Z. The two artists are such veterans to the musical game, and it was definitely apparent through their performances. There was so much energy during each of their concerts that we couldn't help but groove.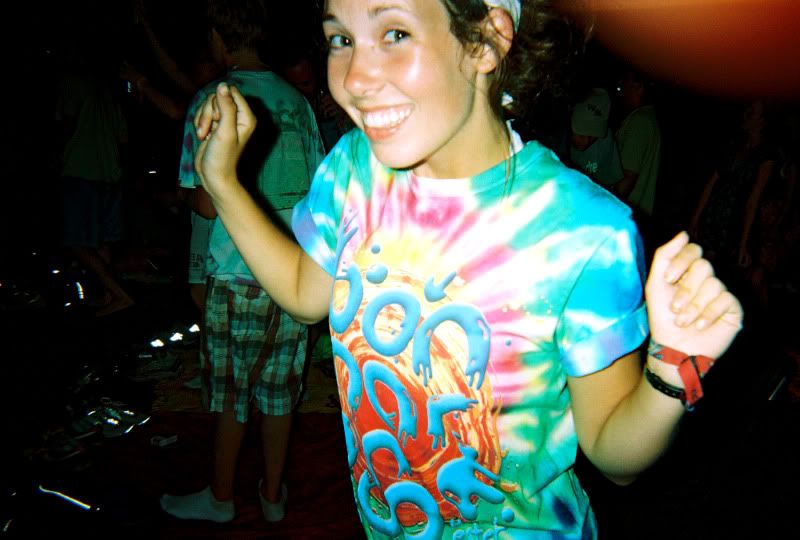 (note: Eliot's blatant disregard for the camera lens. That's it! I'm giving him lessons!)
And while a good rap artist is always a nice way to mix it up (especially one of Jay's caliber), I believe that the two of us came to a consensus that Stevie was our favorite out of the event in its entirety.
Yesterday, Sunday, was the final day of the festival. This was the day that we knew the least amount of artists with the exception of
Phoenix
, Regina Spektor, Kris Kristofferson, and Dave Matthews Band. Thus, we explored new things. When we weren't listening to the aforementioned artists, we decided to stand in the excruciatingly long line for the air conditioned Comedy Tent where
Aziz Ansari
from "Flight of the Conchords" was performing. All I can say about him is...
hilarious
! I haven't seen too many comedic performances in my life, but every one that I have attended has been a grand time thus far. Needless to say, Ansari did not disappoint.
All in all, a great experience despite the fact that the heat got to me more than once. With the exception of the music of course, my favorite part was the general ambiance of the festival. I loved the family-like environment, everyone was so friendly and willing to help out with anything.
I will certainly be returning in years to come, and I invite all of you to do the same!