Today is Eliot and I's 2 year anniversary! I cannot believe how fast the time has flown.
A lot of people are not aware (and may be a bit curious) about how Eliot and I came to be a couple. As kids we didn't necessarily hang around with similar social circles, after all. So I've decided to share how we came to be an item.
Beware, this could get mushy.
(Our first photo together!)
...Actually...this was our first photo together!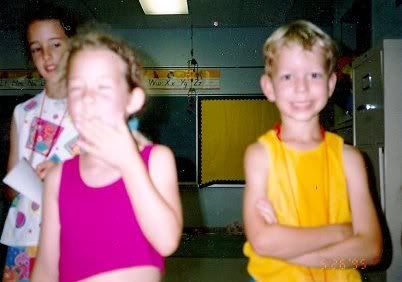 I said earlier that Eliot and I didn't hang out with each other "as kids." That wasn't a typo. Yes, Eliot and I have known each other since first grade- since we were 5 years old. In fact, we were "boyfriend/girlfriend" that year too. (You see, Eliot was notorious for having a different girlfriend every year of his elementary school career- I was his first grade choice.)
Needless to say, after first grade we never talked again. We continued to go to the same elementary, middle, and high school. In high school we had classes together and we even had parking spots next to each other, but I had a steady boyfriend and he had his...err...girl...friends.
As he puts it, he started to notice me our senior year. After the year ended I received a facebook message from him explaining that he was also going to UT so we started chatting a little that way, but it was all very innocent and certainly not enough to give either one of us courage to talk in person.
Freshman year then came and went and we had a class together. Eliot had a girlfriend at the time (that lasted about 3 months or so) and I was continuing to be off and on with my high school boyfriend. We would bounce relationship advice back and forth to each other a bit, but again, nothing serious.
That summer before our sophomore year Eliot and I started talking a lot...well, via facebook that is. I think this is the point where he decided that I was legitimately cool. (I can make myself seem VERY witty through the internet.) We would spontaneously show up at each other's work places to eat. However, I was still having trouble at this time letting go of my previous relationship.
Then, sophomore year, Eliot moved into "The Kennel"- party center of The Fort. I wasn't a very outgoing person at this time and I was so paranoid about my prior boyfriend finding out things (it wasn't the healthiest relationship at that point) that I would always turn down his party invites.
However, I finally made an appearance at his Halloween party and Eliot talked to me more than anybody there as well as texting me afterward apologizing for a fight that had broken out.

At this point, my "crush" was official.
I even voiced it aloud to my best friend. In my opinion nothing of this tier is truly legit until it is spoken out loud.
After this we laid low for a little bit and didn't speak much. During this time I was able to get my life together and completely break away from my high school relationship.
One day Eliot invited me to lunch (which normally would not have been a day I could go, but due to fortunate mishappenings I turned out to be available). Once he found out at lunch that I was no longer dating anyone he immediately asked to hang out again later that week.
And now here we are today! I think this has been the happiest two years of my life thanks in large part to Eliot.
Time to celebrate, sushi here we come!