If driving down Gay Street this weekend it may have just seemed like a normal, Saturday afternoon in Knoxville. However, just one foot set in Market Square would immediately squander such an impression. This weekend Knoxville did not uphold to its typical "college town" stereotype. It, in fact, transformed into an underground musical haven.
Big Ears
is a new music festival in Knoxville, TN- and by "new" I mean that this was its second year in existence. This year's music fest featured an array of indie artists who rank at various points along the popularity spectrum.
From Sufjan Stevens, Vampire Weekend, and St. Vincent to The Dirty Projectors, Joanna Newsom and even Andrew W.K., this year's event was definitely a success.
Friday, Saturday, and Sunday consisted of these artists and more playing throughout downtown in venues such as (but not limited to) The
Tennessee Theater
, the historic
Bijou Theater
, and the recently built
Square Room
.
I wish that we could have made it to more shows than we did, but being newbies we decided to buy tickets for a couple of individual shows rather than the entire festival. We had to save our money for Bonnaroo, after all, and tickets for Big Ears were almost just as expensive.
Saturday Eliot and I ventured over to the downtown scene to see DJ Rupture, The Dirty Projectors, and Vampire Weekend.
DJ Rupture and The Dirty Projectors were opened by a man named
William Basinski
.
His entire 45 minute performance consisted of a single, constant, ambient loop. And I'll admit, I was confused, mentally disheveled, and slightly angry- I just didn't get it. I kept waiting for something really amazing to happen- some sort of burst of energy...but it never came...
When he finally decided that he was finished everyone in the audience applauded, and I couldn't tell if they were being sincere or not. It is the south, after all, and folks tend to be more polite in general. However, after researching them on
Pitchforkmedia.com
and seeing their raving
album reviews
, I've come to the conclusion that I simply "didn't get it."
I still don't.
Next up was
DJ Rupture
. Now here is someone whom I can get on board with. He took turn tables to another level adding a very unique and personal style. Instead of creating mashups to simply inspire dance in young people like
GirlTalk
or
Super Mash Bros.
, he creates an in-depth sound by extracting a general mood from avant garde musical tracks and "found sound."
He was the one person that Eliot and I would have loved to find later on in the night playing at a local bar or such. However, we failed to do this.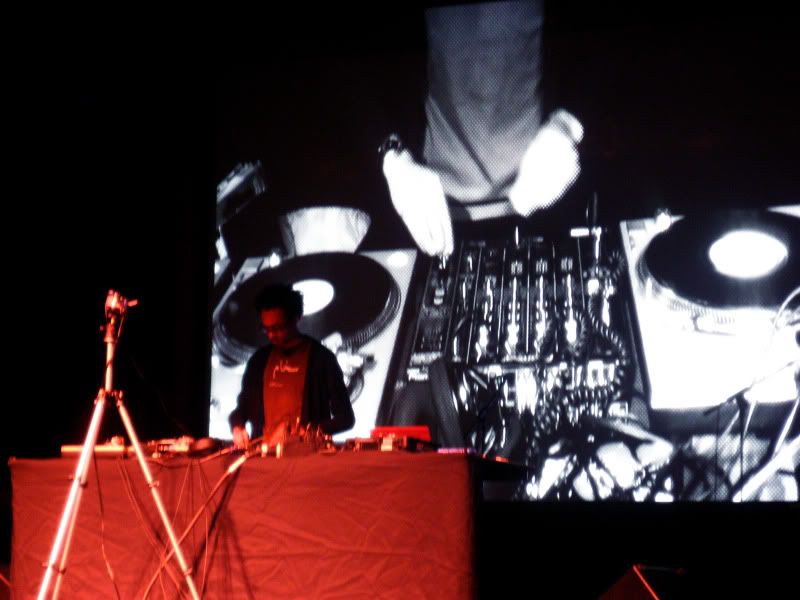 Check out some of his music here- just 2 examples, unfortunately. It was all that playlist.com could offer me:
After DJ Rupture were
The Dirty Projectors
, and I have to admit that prior to their performance I only knew one of their songs and that was "Two Doves." However, these guys blew me away. Their music in general puts a large amount of emphasis on female harmonies and utilizes them almost as instruments while front man, Dave Longstreth, jams out on his guitar (though not in an attention-hogging type of way that usually tends to occur in such situations). It was a beautiful arrangement to witness.
Pitchfork gave their last album
Bitte Orca
a well-deserved 9.2 and also ranked it number 2 on their albums of the year list behind Animal Collective's
Merriweather Post Pavilion
.
I listened to
Bitte Orca
around 2-3 times immediately before the show in preparation for their performance and was angry with myself for not having given it a chance sooner as it had already been on my ipod for a few months prior to this weekend's festivities.
Here are my 2 favorite songs from that album:
Though I am officially on board The Dirty Projectors bandwagon, I have much to catch up on as they have released 9 studio albums and EPs since 2002 and are currently in the process of recording their
10th album
rumored to be named "Ascending Melody."
Busy busy band.
And finally, the one, the only,
Vampire Weekend
. I actually have the exact inverse relationship with this band as I do with The Dirty Projectors. You see, I have been a fan of Vampire since the very beginning. Back (around 2 1/2 years ago) when I volunteered at our campus radio station,
90.3 The Rock
, I received their debut album from a fellow music department member. It was their promo CD sent directly from the label complete with album title and band name sharpied directly onto the CD (in this case the album was self titled) with the track list typed up on a sheet of paper and folded inside. I absolutely treasure that album because I think that it is a very neat thing to have considering how huge they've become.
This was my second time seeing Vampire Weekend live. I saw them at last summer's
Lollapalooza
, however, due to unfortunate happenings and unbearable heat I wasn't feeling too good when they played so I was thankful to get to see them for a second time. I thought that they played a great mix of tracks from both CDs, and I was extremely excited to see such a strong Knoxville fan base- even high school kids knew what was up and were singing along to all of the words.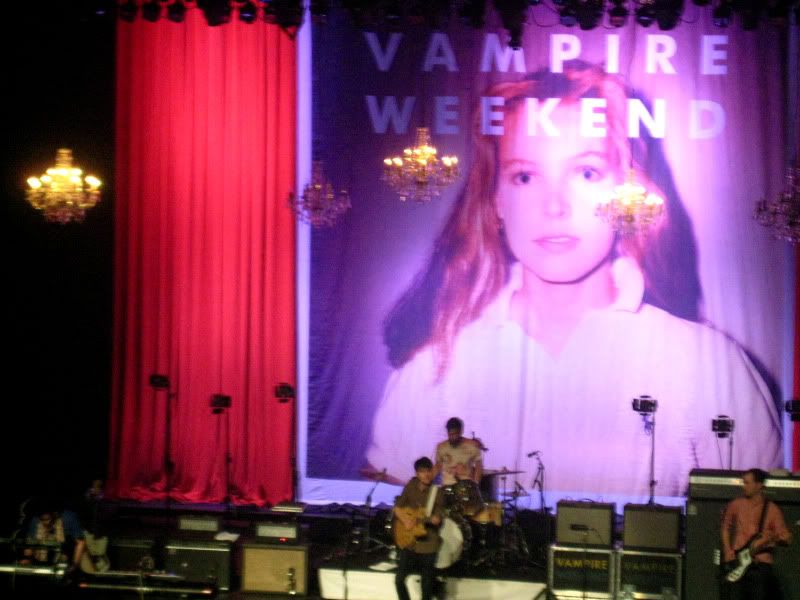 If you've never listened to them then you're missing out. Here are some examples of their work- guaranteed to make you happier by a margin of at least 40%.
The first 3 songs I have included are off of their recent album,
Contra
, and the last 3 songs are off of their debut, self titled album.
All in all, I'd have to give the best performance award (out of the extremely small number of bands I saw, that is) to The Dirty Projectors. Vampire Weekend was a great show to sing along and dance to, but their sound is very simple and didn't stray much from what you hear on their albums. While The Dirty Projectors' sound didn't vary from their albums either, their ongoing harmonies and vocal/instrumental tricks were too impressive live not to award them credit.
They took the cake in my opinion.